Post by "The White Lion" Leone LeBlanc on Oct 29, 2019 23:56:22 GMT -5
Name:
Spencer
How did you hear about us?:
Bianca Davis, Lash Donohue
Preferred method of contact:
@thewhiteleone
Name:
"The White Lion" Leone LeBlanc
Height:
6'1"
Weight:
185 lbs.
Hometown:
Montreal, Quebec, Canada
Alignment (Face - Heel - Neutral):
Heel
Gimmick:
Narcissistic Heel
Pic Base:
Derek Jaeschke (Long Hair)
Wrestling Style:
Striker (Kickboxing)
Out of Ring Appearance:
Leone always dresses well outside of the ring, wearing high end designer clothes most people reserve for special occasions. Example: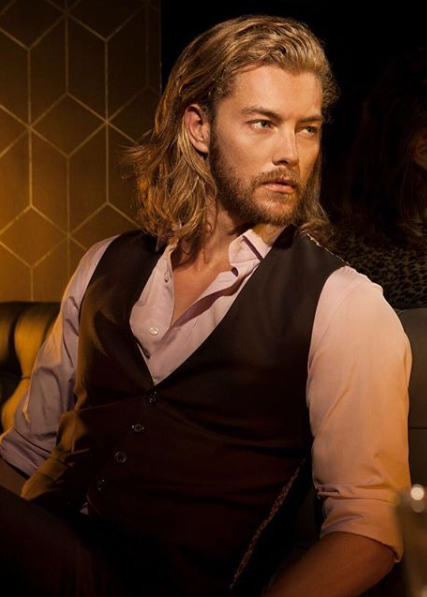 In Ring Appearance:
In ring, Leone ties his hair up in a bun. He wears White trunks with a Gold trimmed Lion on the back. He wears gold trimmed white kick pads. He does not wear boots, or anything on his upper body. When preparing to unleash his finisher, he pulls the bun down so his hair hangs around his shoulders.
Entrance Music:
"Fascination Street" -
The Cure
Entrance Description:
Leone comes to the ring as the music starts wearing a full length white fur coat and high dollar sunglasses. The only light on in the arena is a spotlight trained directly on him. He holds his arms out at the top of the ramp, basking in the 'adolation' of the audience before making his way to the ring, avoiding any interaction with the fans at all. He leaps up onto the apron from the floor before climbing into the ring and walking over to the corner before jumping up and laying across the top turnbuckle to wait for his opponent.
Should he have Bianca with him as a manager, she is on his arm while he walks slowly to the ring. They banter back and forth, ignoring the crowd. Leone leaps onto the apron as normal, but holds the ropes open for Bianca to help her into the ring. He then goes to the corner and leans against it, Bianca standing with him.
Finishing Moves
1. (Primary Finisher)
"Lion's Roar"
- Spin kick to the gut, followed by a leaping ax kick to the back of the head.
2. (Desperation Finisher)
"Final Hunt" -
Shining Wizard
Signature Moves
1.
STO
2.
Foot choke to opponent standing in corner
3.
Spinning Back Fist
4.
V-Trigger
5.
Kamigoye
Regular Moves
1.
Kicks (legs, arms, body, head)
2.
Clinched knee strikes
3.
Clinched Elbow Strikes
4.
Drop toe hold
5.
Kicks to the Body (standing corner opponent)
6.
Jabs
7.
Snap elbow strikes
8.
Front kick to the face of a kneeling opponent
9.
Face wash (opponent in corner, or seated against bottom rope)
10.
Clap kick to head of prone opponent
Brief Bio: Leone LeBlanc was born into a life of privilege. His mother a famous Parisian model, and his father a cameraman for many of the most famous runway shows in the world. Leone may be a model in his spare time, but his first love was Kickboxing. One of the only things Leone ever took seriously, he managed to rise to 1st Dan Black Belt in the sport before turning his attention to Professional Wrestling. Why would a man who had done so much for his sport walk away just like that? Two words. Bianca Davis. The woman had caught his eye, and now, his heart, as he seeks to join her in her own profession of choosing, utilizing his deadly proficiency in kickboxing to make his way in her world.