Post by Savage on Nov 17, 2019 2:02:59 GMT -5
What's that term the kids like to use when they see something like this...*grins*...skrt, skrt?
Well, I've got that skrt making material right here.
Dallas, Texas
16 Nov 2019
7:49 PM CST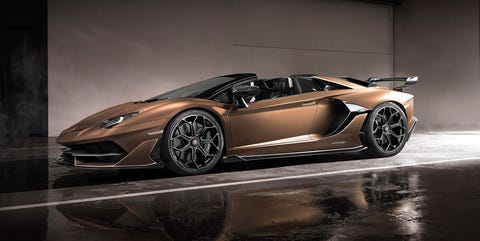 Where does he get such wonderful toys?
The 2020 Lamborghini Aventador, dripping in that Athenian Bronze paint job. 770 thoroughbreds under the hood, 0 to 60 in 2.9 seconds. Faster than most wrestlers' careers last. Tony Savage has a whole concrete shrine built to all the bad boy toys bad ass boys get when they rock at their job. The Italian Stallion with the heated leather is just another jewel in his treasure hoard.
The Aston Martin Vulcan is across the aisle from the 1972 original Dodge Challenger RT. A '38 Harley Davidson Knucklehead with the baby blue candy coating sits on a rotating platform, and the fully loaded Yukon Denali is getting along just fine with its neighbor, the Maybach Mercedes. The wifey's got her "DRSVGE" license plate proudly on display on her McLaren.
Antique guns and melee weapons in glass displays share wall displays with the PPV posters his face has graced, and the title plaques that bear his name. He's worked for the big names over the years; the Michael Pettis's, the Danny Mac's, and the Kaden Kesslers, putting asses in seats, zeroes in the bank accounts, and the opposition in their proper places...
Below him.
He calls this garage of his "the Fortress of Ballertude. Hell, he even looks like a Man Of Steel
Tony Savage admires his sweet, handcrafted ride, twirling an ancient sword from the First Crusades he picked up during a tour of England back in the day, grinning.
I read tweets from motherfuckers getting giddy over buying new phone skins and video games. Most of these wrestlers drop tweet storms squealing for joy over going to the game shop and dropping $60 on a game like it's the best thing in the world. Guys like me, we drop net most people's net worth on gear like this, and we just shrug...
Because it's what people like me do at the beginning of the month.
He sheathes the blade, handing it to one of his security team, who promptly puts it back on it's display rack. he moves over to the driver's side, grabbing a shirt hanging over the seat. A closer inspection of his torso gives a stark reminder it wasn't just the cash cost he paid to buy his curio. His body is littered with scar tissue, running the gamut of AK bullets to forget me nots from matches that ranged from brutal to insane.
Like Game of thrones, Tony pays the iron price for his fun.
He puts on his shirt, opens the door, and sits in the driver's seat. His massive hands gently caress the wood grain dash and the custom steering wheel.
Custom made is how I roll. Like 2 Chainz rapped, I'm different. I have different dreams, different visions. I see the world in a light most simply don't have the retinas for.
You see all this around me; I built that myself. No famous wrestling family's coattails to ride on. No "world renowned" teacher to pass their skills off on me. None of the same tropes most of these clones lay at our feet.
That's why my walls are full of trophies. That's why I created my own brand, my own style, while others simply stand on the shoulders of giants.
You don't live the life I live by doing what others do. You do your own thing, and prove it's better than the bullshit others pass off on fans.
His finger nudges the push button ignition.
My name is Tony Savage. I'm the man that knocks the crows off the heads of queens and kings. The man that turns icons and legends into also-rans. The motherfucker that bathes in the blood of self proclaimed wrestling gods, smirking, turning to that camera with a shit eating grin with these words coming out my gorgeous mouth..
Figured. They were mortal after all.
I could tell you I'm here to make an impact. Spit lines about how I'll take UWL and it's raid fan base to the next level. I could bump my gums like the rest of these peons with strong twitter fingers that weaken when the fight starts. But that's what others do. Me...
I'll jut let you take another look around the garage. That should do all the talking for me.
His mitts grip the steering wheel as the garage doors open.
Oh, and to anybody else coming here that's going to run their mouth, regurgitate the same tripe I've seen and heard about what they are, what they're gonna do, I've got one thing to say...
he presses the ignition button; a sweet, powerful roar of 770 horse waiting to run free on the blacktop sings from under the hood.
Sorry! He yells over the noise. I can't hear you over the sound of how much better at this shit I am than you!